The information on this website should not be considered medical advice.
This website contains affiliate links, and we may be compensated for referrals.
We've all heard and experienced first-hand that medical school is like drinking from a fire hose. The sheer amount of information to learn and memorize is often daunting and discouraging. Identifying and properly using outside resources is paramount to doing well. In this review, we'll outline all the relevant information you need to determine if Sketchy Medical is the right platform to help you succeed in medical school.
Sketchy Medical is a resource that incorporates the research-based psychological strategy of "method of loci" for quick and efficient learning. By creating "universes" depicted by intricate and obscure cartoons, students can effectively recall pertinent preclinical and clinical board material which is woven into the storylines.
Sketchy assists with a comprehensive medical education: there is content for preclinical years including topics that range from microbiology to pathophysiology, as well as ever-valuable and elusive clinical videos for Shelf exams. Sketchy also creates curricula for other realms of medicine including Sketchy Pharmacy, Sketchy PA, Sketchy Nursing, and Sketchy MCAT for pre-meds.
List of Sketchy Medical Modules:
When you log in to the Sketchy Medical website, you are presented with 7 main topics for preclinical education. When selected, each topic expands into subcategories, clearly labeled with the number of lessons (videos) and the total time commitment. One invaluable feature is the search bar: students can type in keywords from their in-house lectures such as "Measles" or "viruses" to quickly find videos relevant to their learning. Clinical content is just a click away with a similar layout to easily navigate and select videos corresponding to Step 2. There is no Sketchy app, though the web-based platform creates an enjoyable and easy learning experience.
Each video is clearly labeled with the topic as well as the video length. They each start with a brief introduction followed by immersion into the depicted universe. Every cartoon is caption-optional and can be watched up to 5x speed. Following the video, students have the option to use the "Review Card" which is a snapshot of all the elements of the cartoon. Lastly, each video has an associated quiz to ensure that students can recall the information they learned through the method of loci. After watching each video or taking a quiz, Sketchy tracks your progress so that you know what you've learned and can focus on the next topic.
Why I love Sketchy Medical
Consistency
Sketchy uses themes and symbols in their cartoons, many of which are used in different videos to represent the same concept. This cohesion manifests as redundancy, allowing students to quickly remember important concepts which may recur in medicine. Some examples include red backgrounds for gram-positive bacteria or a golden staff to represent staphylococcus bacteria. Because these themes are used, again and again, it is easier for students to recall information long-term as well as make connections between larger topics. I believe that this consistency is what sets Sketchy apart from other resources.
It's fun!
It's hard to feel like you're studying while you are watching cartoons. Each universe is captivating and memorable which is a nice change from hour-long lectures delivered by burnt-out PhDs. I found that I have been actually excited to study again, and I am doing it with much more efficiency with Sketchy.
Time
Sketchy videos are clearly labeled with their content and time commitment. This makes it easier to plan a study schedule which is a huge relief when every minute can make a difference in crushing exams and scoring higher on Step.
Board Exams and In-House Curriculum
Speaking of Step, Sketchy content is created and organized to learn and remember concepts for both USMLE Step 1 & 2. In addition to being a great resource for Step studying, Sketchy also mirrors most medical school curricula. For both classic and systems-based medical schools, Sketchy's organization and search bar make it easy to find relevant content to serve as an adjunct to your learning in both the preclinical and clinical realms.
Free trial
Sketchy offers a 14-day free trial for students to try the platform before purchasing. I was able to watch several videos and make a plan for my studying before I made my purchase, an invaluable opportunity for those on a fixed income.
Updates
Sketchy is always adding new videos to cover all the topics you need to succeed. Most recently, Sketchy added videos for biostatistics and epidemiology, both of which are paramount for success in medical school and beyond. Sketchy creators are always looking for ways to improve the platform as well as the way students learn and remember information.
How I think Sketchy could improve
Rating system
Outside of quiz scores and automated tracking, there is no way for students to subjectively rate their comfort with Sketchy content. If this were possible, students could easily return to videos or subjects they felt less confident on in order to improve their long-term understanding and save time when they review for exams.
Clinical content
At this point in time, Sketchy has clinical content for internal medicine, surgery, pediatrics, and obstetrics & gynecology. This is great for Shelf exam preparation, but it would be nice to see Sketchy expand this to include other clerkship specialties such as emergency medicine, psychiatry, neurology, and medicine.
Content questions
After finishing each video, I would occasionally find myself with lingering content questions. Rather than turning to my in-house curriculum, I thought it would be beneficial to have a message board to post questions associated with each video. These questions could be answered by other students or professionals to make clarifications and enhance learning.
Sketchy can be paid for with monthly installments or with a one-time purchase. The minimum package is 6 months set at $50/month or $299 upfront. Sketchy recommends the 24-month $25/month or $599 package due to its value, both monetarily and for optimal performance on Step 1. Students may also save up to 5% on their total payment if they use the welcome offer through Sketchy's platform. 
How I use Sketchy
What is the worth of a resource if you do not know how to integrate it into your study regimen? Sketchy has increased my performance on recent in-house microbiology exams as it fits seamlessly into my learning practices. When I study, I start by logging into Sketchy and locating the video which corresponds to the topic we are learning that day. I watch the cartoon on 1x speed with a focus on understanding and acclimating to the universe I am shown.
Next, I read the Review Card for the video and then take notes on Notability while I watch my in-house lecture on 2x speed. I then unsuspend Anki cards corresponding to the Sketchy video I watched which allows me to further understand, learn, and recall information. At the end of each week, I take the Sketchy quizzes which correspond to the videos and topics I learned to ensure that I am where I need to be to succeed in my course. I hope to take a similar approach during my Step studying.
Is Sketchy Medical Worth It?
Sketchy Medical is a great option for students looking for a scientifically-proven study resource. Sketchy mirrors in-house curricula and helps students achieve the highest scores possible on Step 1 & 2. It's great for visual learners or those looking for a comprehensive outside study resource. Sketchy saves time and is fun in the process. Sketchy Medical has improved my exam scores and I look forward to using it as I advance through my medical education.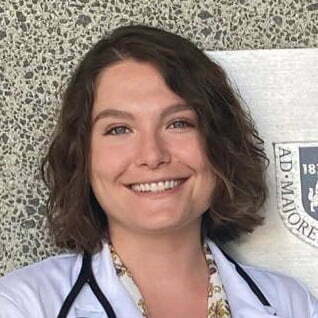 Zoe Abrahamson is a first-year medical student at the Loyola University Chicago Stritch School of Medicine. She obtained her Bachelor of Science in Biology from the University of San Francisco in 2017. Prior to medical school, she worked education and participated in oncological research at the University of California, San Francisco. She is interested in pain management, family medicine, and reproductive healthcare.