The information on this website should not be considered medical advice.
This website contains affiliate links, and we may be compensated for referrals.
I have learned through the years that one of the biggest reasons people do not apply and attend medical school is the immense cost. While tuition is definitely a big one, there are multiple other costs to be aware of. While I truly believe all the expense and debt is worth it in the end, this article can help you get a good idea about some expected and unexpected costs of medical school that you may come across during this journey. As I walk you through this, I will highlight expenses that are required and add in some potential other expenses as well.
Unfortunately, the expenses start even before you get accepted into medical school. Some costs to consider would be:
MCAT prep courses
Different score guarantee options with a full refund if you do not get above that score!
510+ immersion-$3,499-23 hours of In-Person or LiveOnline classroom instruction, 4 to 6 subject-matter experts, Thousands of practice questions
515+ immersion-$7,349-860+ hours of instruction, practice, and support, including 195 hours of live instruction by MCAT experts, unlimited 24/7 private tutoring, and much more
Live online course- $2599-90 hours of unique essential live sessions led by subject-matter MCAT experts with 6 weekly live online Q & A sessions
Online- $1849-500+ expertly crafted, on-demand videos covering all the MCAT content you need, thousands of free-standing and passage-based questions, each with detailed explanations, 16 full-length practice tests
Private tutoring-$183/hr- with full custom tailoring to the students needs
Kaplan
Three options
In-person course – $2899 – 16 Three-hour classes with an MCAT prep expert near you, plus unlimited live online workshops
Live virtual course – $2499 – 24 Two-hour live-streamed, interactive lessons from our best MCAT teachers, plus unlimited live online workshops
On-demand course – $1799 – Prerecorded, teacher-led lessons available 24/7 with a structured study plan
The subscriptions give you access to 235+ sketchy lessons, 235+ review cards, and 215+ practice questions. Below are the subscription options-but there is a 14 day free trial offered as well!
Use code EVERYTHINGMEDSCHOOL for 10% off of Sketchy Medical and Sketchy MCAT.
MCAT
Unfortunately while being a tumultuous exam, there is also a cost to take the exam of about $320, which increases to $375 if you try to schedule within 8 days of a test date. International test takers pay an extra fee of $115.
Application Fees
AAMC advises students to apply to 20-30 medical schools
Primary Application Fees
AMCAS (allopathic medical schools) charges $170 for the first primary application with a $40 charge for every additional program a student sends the application to.
AACOMAS (osteopathic medical schools) charges $195 for the first primary application with a $45 charge for every additional program a student sends the application to.
Texas schools have their own personal application with a flat fee of $185
Secondary Application Fees
Range from $75-$100 per application
Transcript Fees
Varies based on University, can be up to $10 to send transcripts to each program


Interview Costs
During the pandemic, a lot of interviews have gone virtual which has been a benefit in terms of cost, however travel expenses can add up if in person interviews resume. A student can expect $500-$1000 per interview depending on possible flight or other transportation costs and hotel stays.


Business Professional Attire for Interviews


Acceptance Deposits
After sending out an acceptance letter, many medical schools require a primary deposit to hold a students spot until May which is non-refundable. It can vary from $500-$3000 based on the school with an average of 6-10 interviews.
Now you're in! Yay! You start medical school in the fall, what are the upcoming costs that we need to start worrying about….
Most students need to use government loans through FAFSA (Free Application for Federal Student Aid) in order to pay for their tuition and other costs since it is nearly impossible to work while succeeding in medical school. Here are the ballpark expected costs for tuition, room & board, and other personal and otherwise expenses for one year.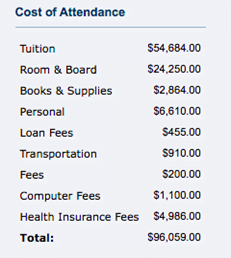 This will obviously vary based on differing school tuition as well as location as living in different areas can change rent expenses extensively.
Board Preparation Resources
Some resources will be funded by the school, but which ones will vary from school to school. Most will provide one type of question bank at least. Each resource will have various subscription packages offered that you can read more about on their individual websites!
First aid – given free by the school in most medical schools
Step 1 & 2-$439 for 180-day access
Level 1 &2-$459 for 180-day access
Step 1 & 2- $299 for 180-day access
Level 1 & 2- $329 for 180-day access
Boards and Beyond – $199 for 6-month access
Sketchy Medical – $399 for 12-month access
Use code EVERYTHINGMEDSCHOOL for 10% off of Sketchy Medical and Sketchy MCAT.
Board Exam Fees
For allopathic students, they will need to take both the USMLE step 1 and step 2 which cost $645 per exam
For osteopathic students, they will need to take both the COMLEX level 1 which costs $660 and level 2 which costs $675. If osteopathic students opt to take the USMLE step 1 and step 2 as well, it will add the above-mentioned costs.
Clinical Years Costs
Scrubs
Business professional attire
NBME shelf exam resources
truelearn/uworld question banks
Books/resources to prepare for clinical rotations
Residency Application Fees
U.S. medical students apply on average to 70 programs, while international medical students apply on average to 130 programs.
ERAS fees are based on how many programs a student applies to per specialty.
Up to 10 programs is $99
11-20 programs is $17 each
21-30 programs is $21 each
31 or more is $26 each
Residency Fee Calculator – click here for further explanation and examples on how this works!
Residency Interview Travel Costs
While the pandemic has led to virtual interviews which have dropped costs immensely if interviews do resume in person next season applicants can expect $500-$1000 (primarily hotel and transportation cost) per interview with students traveling on average from 10-12 interviews
I understand this can feel incredibly daunting, but remember that most students take out loans and successfully pay it all back over the years with little to no difficulty. There are lots of loan pay-back plans in place for physicians to make this as seamless of a process as possible. The profession is still incredibly rewarding and truly cannot put a price on getting the privilege to take care of people. Good luck to everyone applying and starting this journey- I promise it will all be worth it!