The information on this website should not be considered medical advice.
This website contains affiliate links, and we may be compensated for referrals.
Are you applying to medical school and needing to take the Casper exam? Don't worry – this test is not as intimidating as it may first appear. This blog article will explore the Casper exam and how it can help you get accepted into medical school. Throughout the article, we will provide helpful tips and insights on how to ace this exam.
The Casper exam, also known as the Computer-based Assessment for Sampling for Personal Effectiveness, is a test many medical schools require as part of the admissions process. This exam assesses your personal and professional attributes, as well as your ability to handle the demands of medical school. The test consists of scenarios based on real-life situations you may encounter as a doctor or a working professional. For example, you may be asked to reflect on an argument between friends or a group activity conflict. The test also presents various interpersonal disputes between colleagues, friends, or coworkers. All in all, it aims to see how you would react in these situations.
The Casper exam is an open-ended question exam taken on a computer. The test is composed of two sections: the first section is a video response section, whereas the second is a typed response section. They will present you with written and video-based scenarios followed by open-ended questions to answer. It is crucial to remember that the test will automatically progress from one scenario to the next. You will have one minute to respond to each video response question and five minutes to respond to groups of three typed response questions.
There is no penalty for guessing on the Casper exam, so answer all questions to the best of your ability. Graders are taught to ignore minor spelling and grammatical errors, so the focus is emphasized on the content of your responses.
How can the Casper exam help you get into medical school?
The Casper exam can help you get into medical school by giving admissions committees a more holistic picture of who you are as an applicant. In addition to your GPA and MCAT score, the Casper exam can give admissions committees a better sense of your personal and professional attributes and your ability to handle the demands of medical school.

While your GPA and MCAT score are still important factors in the admissions process, the Casper exam can help you stand out from other applicants as the exam provides insight into your social intelligence, professionalism, empathy, self-awareness, and collaboration, among other notable characteristics and skills. The questions are designed to assess how well you would function in a medical school environment. For example, the interpersonal understanding section may assess your ability to interact with patients and other healthcare professionals under trying conditions. The stress management section can help admissions committees understand your ability to cope with the challenges of a medical career.
As you can imagine, having the results of your Casper exam included on your application gives admissions committees more helpful information into who you are as a person and what type of medical student you would be than just primary and secondary applications alone. The Casper exam is a meaningful tool used by medical schools to screen applicants and can help identify students who would be a good fit for their program.
Which medical schools require applicants to take Casper?
The following US medical schools require applicants to take the Casper exam.
US MD Schools Requiring Casper
Baylor College of Medicine
Boston University School of Medicine
Drexel University College of Medicine
East Tennessee State University James H. Quillen College of Medicine
Florida Atlantic University College of Medicine
Frank H. Netter MD School of Medicine
Donald and Barbara Zucker School of Medicine at Hofstra/Northwell
Howard University College of Medicine
Indiana University School of Medicine
Marshall University Joan C. Edwards School of Medicine
McGovern Medical School, UT Health Science Center Houston
Medical College of Georgia at Augusta University
Medical College of Wisconsin
Meharry Medical College
Mercer University School of Medicine
Michigan State University College of Human Medicine
New York Medical College
Northeast Ohio Medical University Medicine
Oregon Health & Science University
Penn State College of Medicine
Rush Medical College of Rush University Medical Center
Rutgers Robert Wood Johnson Medical School
State University of New York Upstate Medical University
Stony Brook University School of Medicine
Temple University Lewis Katz School of Medicine
Texas A&M Health Science Center College of Medicine
Foster School of Medicine TTUHSC El Paso
Texas Tech University Health Sciences Center, School of Medicine
University of Colorado Denver Medical School
University of Illinois at Chicago College of Medicine
University of Miami Miller School of Medicine
University of Nevada, Reno School of Medicine
University of Texas at Tyler Health Science Center Houston
University of Texas Health Science Center San Antonio, Long School of Medicine
John Sealy School of Medicine at the University of Texas Medical Branch
University of Texas Southwestern
University of Vermont Larner College of Medicine
University of Washington School of Medicine
Virginia Commonwealth University School of Medicine
Wake Forest School of Medicine
US MD Schools Recommending Casper
Central Michigan University College of Medicine (CASPer is recommended, not required)
West Virginia University School of Medicine (encouraged)
Tulane University School of Medicine (encouraged, not required)
US DO Schools Requiring Casper
Alabama College of Osteopathic Medicine
California Health Sciences University College of Osteopathic Medicine
Idaho College of Osteopathic Medicine
Kansas Health Science Center – Kansas College of Osteopathic Medicine (required if invited to complete a secondary application)
Michigan State University College of Osteopathic Medicine (required if invited to interview)
Sam Houston State University College of Osteopathic Medicine
Touro College of Osteopathic Medicine – New York
Touro College of Osteopathic Medicine – Nevada
Western University of Health Sciences College of Osteopathic Medicine of the Pacific
US DO Schools Recommending Casper
Arkansas College of Osteopathic Medicine (highly recommended)
What are some tips for acing the CASPER exam?
While the CASPER exam may seem daunting initially, remember that it is just one part of the admissions process. Admissions committees will also review your GPA, MCAT score, letters of recommendation, and listed work and activities.
You can prepare for the Casper exam in a few different ways. Here are our biggest tips to review that will help you score the most points on test day.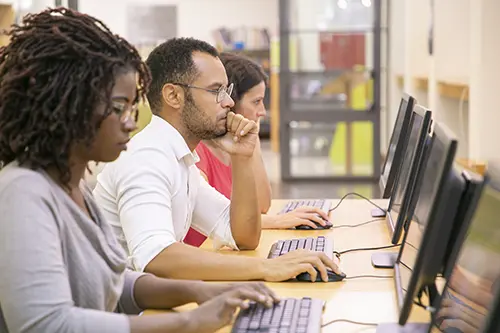 Most importantly, we recommend that you familiarize yourself with the types of questions you will be asked on the exam and the overall format of the examination. You can practice with a full 14-scenario practice test offered by the test administrators. By sitting for the practice exam in test-like conditions, you will be able to practice responding to various scenarios under the same time restraints as on test day.
By taking this seriously, you will feel more comfortable with the test layout, build your response speed and stamina, and feel more comfortable recording video responses. Applicants who sit for the practice test before their examination tend to perform stronger on the Casper assessment. Remember that applicants are not permitted to retake the Casper test within the same application cycle, so make sure you are ready!
Read all questions thoroughly and then plan your response to the follow-up questions. You have 10 seconds to read a question before the timer starts for your response. Be sure to read the question entirely so that you can respond to the question at hand fully. Reading all questions first can help you plan ahead and avoid repeating yourself in multiple responses during the 5-minute response sections with three questions. Plan to use your allotted time to give the most thoughtful and comprehensive response.
3. Move on when the timer ends
The Casper exam is self-automated to move on to the following scenario or question when you run out of time. However, it is just as crucial to mentally move on to the next question or scenario after each ends. Don't panic if you run out of time before fully finishing your thought or response- this is extremely common! With mere minutes to respond to open-ended questions, this is just about bound to happen. If you are unhappy with how one section or response went, take a deep breath and shake it off. Each section is graded by a different reviewer, so they have no clue how you have performed in other sections.
What do I need to know about scores?
Casper scores release to medical schools in groups approximately 2-3 weeks after your test date. You can verify your test has been scored and sent to your programs on your Acuity Insights account. While you won't get the full results of your score, you will be able to see how you performed compared to others taking the test by quartile.
It is important not to dwell on which quartile you had been placed in. Remember that this is just one component of your medical application, and schools will still be able to receive a lot of valuable information from your test.